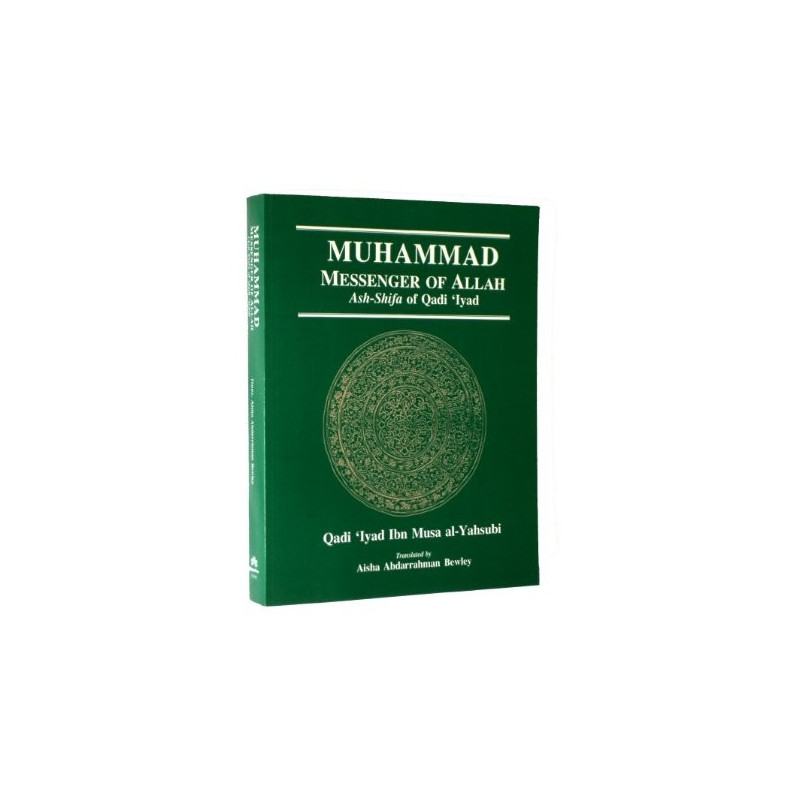  
Ash-Shifa (Qadi 'Iyad Muhammad)

Godkendt webshop. Betal med kreditkort eller MobilePay.

FAST fragt 35 kr. (DAO). Gratis fragt fra 599 kr.
Mulighed for gratis afhentning.

Fuld 14 dages returret fra modtagelse af ordre
About the Book
Kitab Ash-shifa bi tarif huqub al-Mustafa, (Healing by the recognition of the Rights of the Chosen One), of Qadi Iyad is perhaps the most frequently used and most commented upon handbook in which the Prophets life, his qualities and miracles are described in every detail. This book is highly admired throughout the Muslim world and is quick to acquaint the reader with the true stature of the Prophet saw.
Ash-Shifa gathers together all that is necessary to acquaint the reader with the true stature of the prophet, peace and blessing be upon him, with esteem and respect which is due to him, and with the verdict regarding anyone who dares not fulfill what his stature demands or who attempts to denigrate his supreme status - even by as much as a nail pairing.
The Translator
Aisha Abdurrahman at Tarjumana Bewley is one today's most prolific translators of classical Arabic work into English. Aisha Bewley not only understands Arabic but she is also aware of the basic meanings and nature of teachings and history of Islam. Her knowledge is born of experience and direct transmission, not merely academic theory and learning by rote. For more than twenty-five years she has been concerned with making the contents of many classical works in Arabic more Accessible to English-speaking readers for the first time, including Ash-Shifa of Qadi €œIyad.
She is co-translator The Noble Qur'an A New Rendering of its Meaning in English. Other works include -Al-Muwatta of Imam Malik , Glossary of Islamic Terms, Islam: The Empowering of Women, Muslim Women A Biographical Dictionary.
About the Author
Qadi Iyad bin Mussa or Abu al-Fadl Ayyad bin Amer ben Mousssa bin Ayyad bin Mohammed bin Abdellah bin Mussa bin Ayyad al-Yahsobi al-Sabti (1083 - 1149),. Al-Yahobsi refers to Yahob a region in Jemen. Qadi Ayyad was born in Gibraltar. He was a high judge (kadi) in Grenada. He headed a revolt against the coming of the Almohades to Sebta, but lost and was banished to Tadla and later Marrakech. He was a pupil of Abu Abdullah bin Issa, of Imam Abu Abdullah bin Hamdine, of Abu Al Hassan bin Siradj and of imam Abu Al walid Ibn Rushd. As the great imam of Sebta, Ayad ben Musa was apointed Qadi of Grenada.
He was one of the most famous scholars of Maliki law. Qadi Ayyad bin Moussa is one of the seven saints of Marrakesh and is buried near Bab Ailen. His main work is called Al-Shifa. The university of Marrakech (Cadi Ayyad) was named after him.
Produktinformation
Antal sider:

315

Sprog:

Engelsk

Indbinding:

Paperback

Oversat af:

Aisha Abdarrahman Bewley

Forlag:

Madina Press